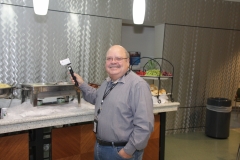 After 19 years with American Airlines, 2 as a contractor, and 17 full time, I retired March 31 to begin a new adventure in my life. The last 10 years I was in the Credit Union, and worked with the most caring and wonderful people one can expect. I shall miss everyone and will keep many good memories of my tenure there. Now, the next adventure begins. Miriam, my wife of 43 years, and I wish for good health as the world is out there to visit and photograph!
UPDATE 4/19/2021: It's been 3 tears since I retired. Sadly, 2020 has been a sad year with COVID-19 causing so many deaths. We were vaccinated in January 2021 and are now waiting and hoping that things begin to normalize, although things may never be the same!
Another sad story from last year, I was shocked to hear the news of Vicky Randolph death. She was one of the most caring and adorable people I have ever met. It was a honor to have worked with her several years. May she rest in peace!